With the exclusive wave fire-tube design, advancements in Lochinvar combustion technology, and the SMART TOUCH™ control with CON·X·US, the Crest condensing boiler changed how the industry thinks about fire-tube boilers. Now you have the opportunity to use all of these features in sizes ranging from 750,000 to 6.0 million BTU/hr and delivering up to 96.2% thermal efficiency.
The History of the Lochinvar Crest Boiler: Always Leading the Charge
Introduced in 2011, the Lochinvar CREST® boiler was a breakthrough product. With five sizes ranging from 1.5 to 3.5 million BTU/hr and boasting a 92% thermal efficiency the high-efficiency boiler Oslin Nation in Texas currently distributes, led the way for Lochinvar in the commercial condensing boiler industry. A unique combustion system featuring 2 fans, 2 gas valves, and a dual-chamber burner allowed the Crest condensing boiler to maximize turndown, unlike any other product. The Lochinvar Crest boiler with wave fire tube technology delivered robust heat transfer and set itself apart from the competition.
In 2015, the product line was enhanced by expanding the product offering down to 750,000 BTU/hr and up to 5 million BTU/hr. Along with that, a new combustion system was introduced that allowed greater flexibility and more robust operation. In 2016, the 6 million BTU/hr input model was introduced making this product line broader in its capability.
Now the entire Crest boiler model line features a more streamlined combustion system along with greater thermal efficiency of up to 96.2%. Combined with the standard offering of CON·X·US® this high-efficiency boiler brings the best tools together in one product. Complete control from anywhere, installation flexibility, high turndown, and excellent serviceability are what set the Crest condensing boiler above the rest.
A High-Efficiency Boiler Combustion System
Lochinvar Crest boilers are equipped with a top-mounted micro-metal fiber burner, engineered specifically for fire-tube technology. The system is designed to ensure smooth, quiet modulating combustion with up to 25:1 turndown. An FBN2001 Crest Boiler fires at its maximum 1,999,999 Btu/hr rate when the heat load is highest, and then gradually turns down to as low as 4% (80,000 Btu/hr) as load decreases.
Other system features include:
A modulating system runs smoothly and efficiently, without frequent on/off cycling.
When the system is zoned, this high-efficiency boiler's high turndown works to match the actual system demand. In return, this reduces the customer's fuel bill and provides better comfort by load-matching the heat loss of the system.
Reduce Installation Cost with Variable Flow Technology
The Crest boiler can operate over a wide range of flow rates with very low-pressure drop. This permits the installation of a full flow (variable primary) system. Installation is streamlined, without the time and materials cost of primary/secondary piping, and pumps needed to maintain flow in a water-tube boiler. Variable flow also makes the Crest condensing boiler more flexible at handling frequent fluctuations in the system flow rate.
A High-Efficiency Boiler with Minimum Supply Pressure
The Crest boiler operates reliably with supply gas pressure as low as 4 inches water column. Negative Regulation technology draws gas into a pre-mix combustion system, instead of relying on utility pressure through the gas valve. Operation is steady in low gas pressure systems or when peak gas supply demand occurs. Plus, Neg/Reg fan control fine-tunes the fuel/air ratio entering the burner, providing an even, cleaner-burning flame, achieving high combustion efficiency.
Peace of Mind, When it Matters Most
Cascade redundancy provides peace of mind because it helps ensure that a CREST boiler system will always deliver reliable performance with no downtime. If the lead boiler is turned off for maintenance, cascade redundancy automatically shifts the lead role to the second sequenced boiler. Up to eight Lochinvar CREST boilers can be sequenced using a 2-wire daisy-chain connection. Cascade sequencing can be programmed for lead-lag or efficiency optimized operation. With lead-lag operation, one lead boiler modulates to capacity on demand. As load increases, the system then cascades to additional lag boilers in sequence. The first-on role shifts daily, distributing equal runtimes to each unit. In an efficiency optimized system (see illustration below), all boilers fire and modulate simultaneously at the same Btu/hr input rates, maximizing thermal efficiency.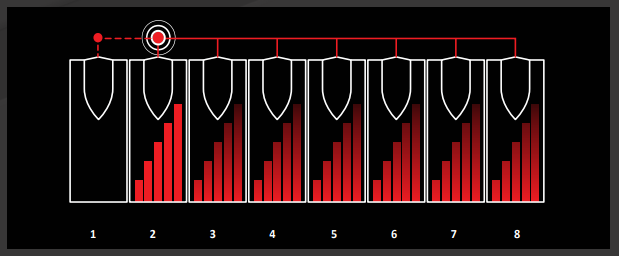 Superior Fire-Tube Heat Exchanger Design Boosts Thermal Efficiency
The CREST boiler takes fire-tube technology to a new level. The patented Wave configuration creates turbulence as flue gas products flow down the tube, scrubbing the energy from the flue products. The Wave design also enhances the life of the heat exchanger by allowing the tubes to flex, so they operate stress-free with none of the adverse effects suffered by traditional fire-tube boilers. Each fire tube is welded into the heat exchanger and surrounded by water, and the heat transfer process is enhanced by the water's counterflow. As water flows up inside the vessel, superheated flue products flow down the fire tube of the high-efficiency boiler. With one pass, heat is effectively captured, reaching condensing temperatures. At the top of the vessel, the combustion chamber is also water-backed for additional heat transfer.
About Oslin
No matter the kind of project you are working on, Oslin Nation Company has the hydronic heating and cooling solutions you are looking for. We have been a Lochinvar boiler rep as well as the distributor for high-efficiency boilers and water heaters in San Antonio and Houston Texas and are proud to provide their quality products to our customers.